We are proud to present our latest design.  This boat began as an inspiration of a client who had been searching for a builder who was willing to listen to the idea of creating an on the water experience like no other.  The criteria for the build included two sauna rooms, a large shower area, powder room, stackable washer / dryer, office, kitchenette, lounge area with lots of windows that would give it an airy feel and an interior staircase that would lead to a roof top deck that included a hot tub.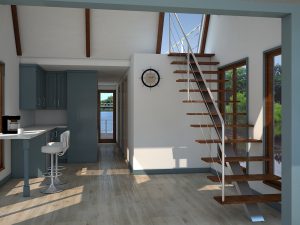 This boat would be used year round in the Finger Lakes region of NYS. The challenge for the design team was not the ability to provide a comfortable environment. The use of closed cell spray foam in the floors, walls and ceilings, the use of ductless mini-splits for HVAC would provide that year round comfort.
To create a more open feeling we raised the roof.  This gave us an interior ceiling height of 11'6".  This certainly created that open feeling we were looking for as well as gave us the opportunity to create a sliding door/roof hatch that would help keep any accumulated snow on the roof deck from entering the cabin.
The more we worked on the design the more the team really liked the way the boat was looking.  Designed at 45' LOA with a beam of 13'9" we immediately realized that this boat could be adapted to many other uses, both for commercial and private uses.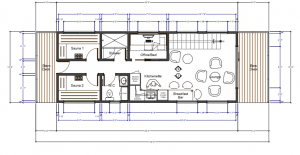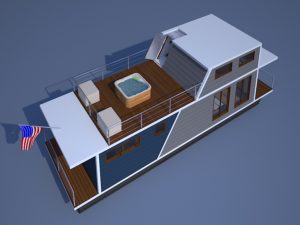 These floor plans can be built with any of our elevations, whether a full flat roof deck, split Gable / Flat or the raised roof model shown here.
Each boat is designed and built to the owners specifications.  We build in lengths from 30 to 50 feet long with beams ranging from 12′ to 15'9″
The design of any boat is a process.  We work to identify the clients needs and wants, we discuss where the boat will be located and how it will be used. We start with a basic floor plan, then develop a two dimensional elevation, as the process moves forward we begin to introduce colors to the design.  Once we have an approved design, construction takes approximately 3 to 4 months.  Our pricing includes delivery and launch at your location. These boats do not have to be moored in conventional settings.  Virtually any waterfront property can accommodate one of these boats.  We just need access to the water,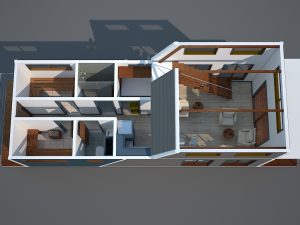 The two bedroom floor plan below is an example of how our design team can create almost any floor plan to accommodate any of our clients needs.  This plan shows the second bedroom as a combination office space with a fold down twin sized bed which covers the desk