Own a floating vacation home!
Whether you use your vacation home down south in the winter or up north in the summer, East Coast Houseboats is the only builder providing boats that can be utilized any time of the year in any climate.
While our boats are very reminiscent of a floating home, each boat that East Coast Houseboats designs and builds is built to be registered, insured, and financed as a boat.
What makes our boats unique?  It's simple really.  While being lifelong boaters, we've also been lifelong builders.  We know that the average boat is only used 12 times a year.  There are marinas where the boats never leave the slips.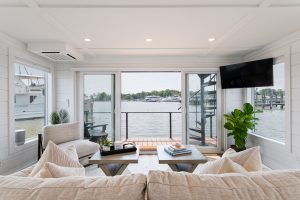 Maybe the marina is the destination, maybe the amenities that the marina includes is the reason boaters go there?
Maybe it's all of the above, but having a boat that can maximize the owners experience is what we're all about
With the price and limited availability of waterfront property in popular areas continuing to impact the possibilities, marinas as destinations are growing.
Maybe your idea of a great vacation spot is a lake in the mountains.  0ur boats can be located on any waterfront.  Minimal infrastructure is required.
Maybe you have a large piece of property with a pond, again remember these are boats, and typically aren't taxed as real property.
What about property that can't sustain a conventional home, such as property located in a flood zone or wetlands.  These are boats!
The build team at East Coast Houseboats is dedicated to providing a very unique on the water experience to individuals that has never been available before.
Whether you choose one of our standard boats from our freedom line, or a boat designed to your specifications, your on-the-water experience will not disappoint.
Our custom boats are built in lengths from 26' to 53' in one-foot increments and our beams are available from 12' to 15'9" in one -inch increments.  Our boats are built on foam-filled High Density polyethylene pontoons, which provide a maintenance free platform for our cabins to float on.  Each cabin includes a level of insulation that no boat builder is currently matching.  R-25 in the floor and roof systems, and R-21 in the exterior walls.  A high-quality residential window and door available in over 30 colors.   Our exterior looks are highly customizable with entirely composite materials.  All of these materials are chosen for their long-life cycles and minimal maintenance.
The interior of every one of our custom boats starts with a blank slate.  The flooring is a luxury vinyl plank, available in dozens of colors and patterns.  The wall finishes can be accomplished to suit your tastes and lifestyle.  Whether you're looking for a soft color pallet, or you want the yacht look of mahogany or teak, our design team will work with you to accomplish the look and feel you're looking for.
Our kitchen designer will work with you to develop the kitchen that will most fit your boating lifestyle.  All our cabinetry is built in the USA and available in dozens of door styles and colors.  Our design team will work with you to choose the appliances that will not only work well on the boat but will maximize your experience.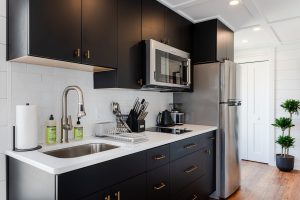 The designs of our bathrooms are no different.  From shower stalls, that can feature ceramic tile, or wall products like swan stone or wet wall by Wilsonart, all our bathrooms feature a high-quality marine toilet with a China bowl in comfort height.  Vanities, mirrors, lighting are all chosen for your particular boat.
The HVAC in your boat is also critical to your experience. Our ductless mini splits are chosen for maximum efficiency including features such as wi-fi control allowing you to set and monitor your boat's temperature remotely.
Your custom boat can also include options such as a fireplace, either electric or propane, we've even installed a wall mounted wood stove allowing for a unique living experience on a cold winter's day.
You can also option your boat to include a completely custom Audio- visual system.  From cabinetry housing tv's that rise when needed to tv's that fold out of the ceiling.
Your living experience doesn't stop with the interiors, our roof decks can be outfitted with options such as roof top bars, firepits, roof coverings, If you can visualize it our team can implement it.