East Coast Houseboats is proud to announce its partnership with Flohom. Flohom is a next generation experimental hospitality company providing travelers with a new way to experience the water and enjoy the comforts of elevated hospitality. East Coast Houseboats has been selected as the exclusive builder of their modern floating suites which will be designed and built with thoughtful amenities, spacious layouts, and breathtaking waterfront views.
Flohom's unique lodging and elevated hospitality will increase your marinas visibility to travelers and the next generation of boat owners.
Flohom offers marinas an increased per slip revenue with their short-term rental business model. Flohom will provide an immersive experience for their guests connecting them to the water and the surrounding community through a curated experience.
Flohom's unique blend of physical and digital operations won't require support from the marina staff.
The design team at East Coast Houseboats was up to the challenge as Flohom laid out the vision they had for their brand. All their boats were to incorporate the best materials that were available in the marketplace.
Flohom 1 is the queen of the fleet at 53' LOA with a 15'9" beam. While an original design from the East Coast Houseboat portfolio of plans, we've added several of the Flohom design elements to knock this one out of the park. Her exterior features a very unique composite siding product called Cham Clad. Manufactured in Canada as a solution for siding in the commercial construction market, Cham Clad has offered us a variety of options for all our clients. Completed in a Chai Ceder color she features black trim and black windows. Her roof deck is accessible from both the bow and stern via black spiral staircases.
The interior living space on this boat is no less impressive. As a 1 bedroom 1 1/2 bath she has lots of room to spread out. The kitchen is set up to cook. Her white shaker cabinetry, gas cooktop, dishwasher, full size fridge and wine fridge combined with a large quartz covered island provide quests an unmatched on the water experience.
The main bath includes a 48" ceramic tiled shower stall, a large vanity and top of the line cabinetry. This boat also features a stackable washer dryer located behind closed doors.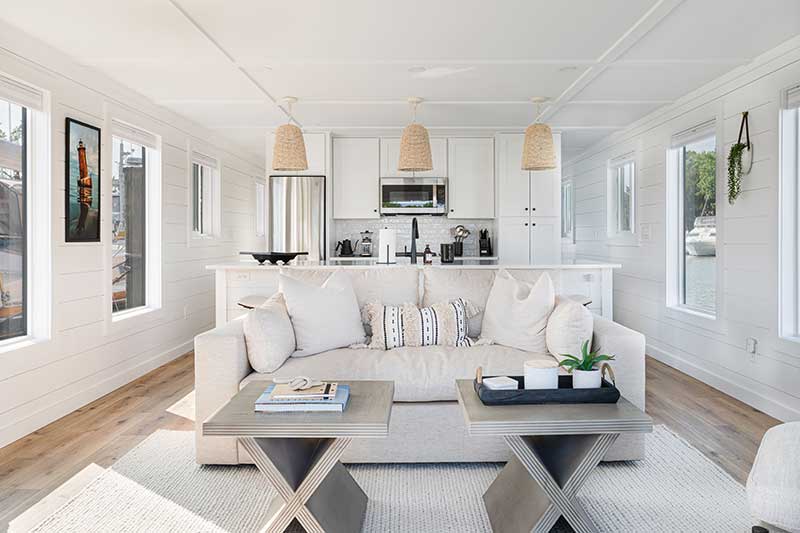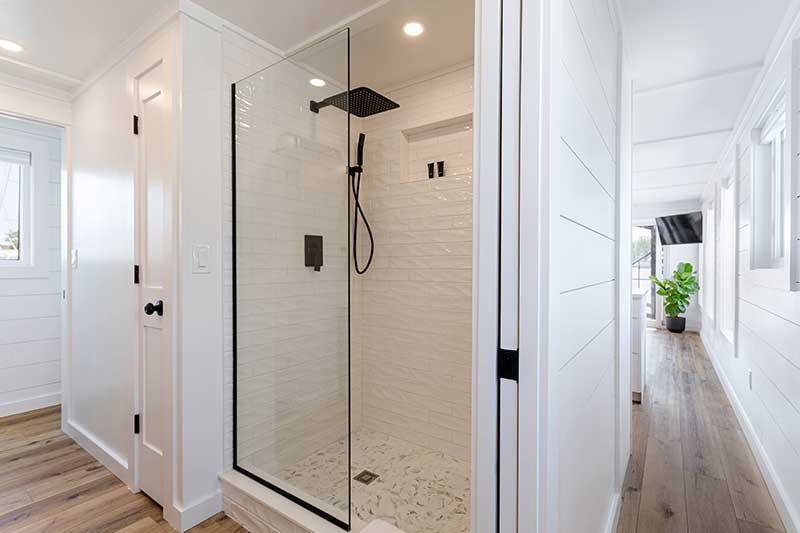 Flohom 2 at 45' LOA with a 15'9" beam was another original design coming from the design team at East Coast Houseboats.
This boat features 2 equal sized bedrooms which allow for walk-around queen sized beds. The boat also includes 2 equal sized bathrooms both with 4' ceramic tiled showers.
The kitchen is highlighted by euro styled black cabinetry, stainless-steel appliances, and quartz countertops.
This boat also allows for a comfortable living area and fully accessible roof deck.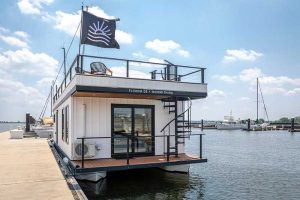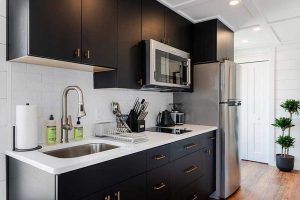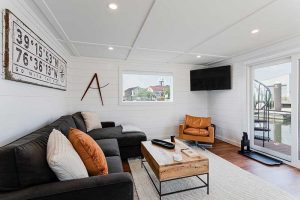 Flohom chose the East Coast Houseboats Suitewater 26 for Flohom #3, at 26' LOA with a 14' beam, she the smallest in the flohom fleet, but does not disappoint in the level of amenities that are packed into this Suitewater 26. The boat includes a walkaround queen sized bed, and space for a queen-sized sleeper sofa. The bathroom once again features a 48" ceramic tiled shower stall featuring a green tile with brass fixtures. The kitchenette features everything you need to make your stay perfect.
As with all the other Flohoms, # 3 includes a fully accessible roof deck.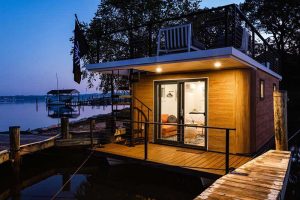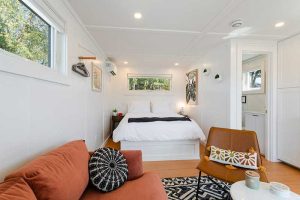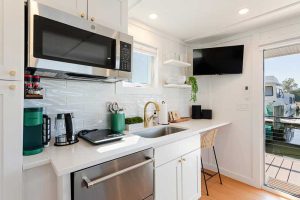 What's next for Flohom and East Coast Houseboats, Flohom # 4 is an extended version of our Urban Lodge 36. We've stretched the design to accommodate a stackable washer / dryer. This boat's exterior is very similar to flohom #1 using Cham Clad siding in the chai cedar color with black windows /doors and trim, interiors feature our classic white ship lap wall coverings, with gloss white cabinetry. All Flohom's include a ceramic tiled shower stall and other amenities you've grown to expect from East Coast Houseboats
Flohom #5 is a 30' Suitewater. A very similar floor plan to our Suitewater 26' we've lengthened the boat to accommodate a stackable washer dryer. The boat features Everlast siding in a white board and batten style with black windows.
We've switched up the interior a bit by installing ship lap on the ceiling in this boat.
Watch for updates as Flohom 4 & 5 launch and enter the short-term vacation rental market.