At East Coast Houseboats its all about customization. We treat each customer and their boat as individuals. We start the process by learning about the client's expectations, what they hope to use the boat for. Are they planning on having overnight guests? Are they planning on using the boat year round? Are they on or off the grid? No matter the application the team at East Coast Houseboats first listen and then go to work on the design.
We recently had a customer who liked our classic Riverlodge 40 model but wanted to make the boat his own. He didn't want a roof top deck; everything should be on one level. He wanted more of an L-shaped kitchen than our traditional galley design.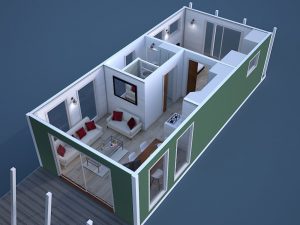 We took some space out of the bath to add more on the kitchen side of the boat. Continued the gable roof throughout the cabin all with a cathedral ceiling. He planned on docking the boat in a Marina setting, we kept our standard 30 amp service which would be suitable in any Marina and of course wanted to specify the colors both outside and in.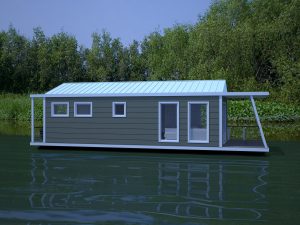 Our design team went to work, and we were able to supply our client with the look and options he was looking for. This customer was from the New England, if you look closely in the bottom right corner check out the picture on the TV, it's all about the details
Our latest client a high end boat rental and charter operation was looking for something a little different from our team. They wanted a "party boat" that could be used either dockside or anchored out in a cove that could be used to entertain their clients in a very relaxed setting.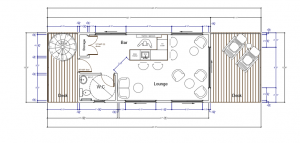 They didn't need sleeping accommodations but wanted a bar on board with a handicap accessible bath. Tables and chairs, within the cabin as well as outside deck. They wanted a roof top deck where their clients could enjoy the sun and water views. This boat needed to be able to operate seamlessly whether dockside with shore power or underway to allow for HVAC, and refrigeration. While the design for this project is still underway you can see how the customer supplied sketch was transformed into a working drawing that the client is currently marking up so we can take the project to it's next level.  Once we receive comments from our client we will make the changes then go to renderings and add color to complete the design.