Houseboats and the Erie Canal
As boaters who have traveled the waterway for years, we have always wondered how we could share this incredible resource with more people looking to get out on the water.  With 524 miles of navigable waterways and dozens of existing marinas located within the system it seems as if there could be countless opportunities for houseboats.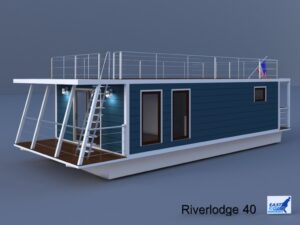 The obvious location for these boats would be within the existing marinas, it could provide them with the opportunity to utilize any unused slips, or even provide them methods to monetize areas of the marina that in the past have been unusable due to shallow water or access problems.
Beyond the obvious, what about the miles of unused sections of the Canal that could sustain small communities of houseboats?  What about the idea of creating mini marinas where groups of 5 or 6 boats could be located?  These marinas could be built with minimal infrastructure, there would be no need for fuel docks, nor a travel lift.  These Houseboats can be built to operate completely off the grid, using Solar or wind generation which would provide virtually no carbon footprint.  These mini marinas could provide opportunities for businesses already located within the NYS Canal System to expand or even bring new interest to the area.  The owners of these houseboats would now have access by water through the Erie Canal System to go anywhere in the world, or just sit on their floating front porch and fish, view wildlife, kayak, canoe, or hike and bike the Canalway Trail.  These boats could be placed in vacation rental platforms such as Airbnb or VRBO offering visitors to the Canal a completely new way to experience the historic waterway.  These mini marinas could be set up so boat owners could park their day boats next to their houseboats for those trips out on the lake for a day of watersports or a trip to a dock and dine.  The Houseboats could also be positioned at locations along the canal so travelers embarking on a trip along the canal could stay at a different boat each day.  The Erie Canal system offers so many opportunities to travelers who wish to experience something completely different or allow for local residents the ability to utilize the Erie Canal in a unique way.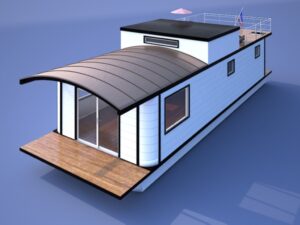 The Boats from East Coast Houseboats while reminiscent of floating homes are truly boats, all built with Hull ID'#s ready to be registered, insured and financed as boats.  They're  welcome almost anywhere any other boat might be.  East Coast Houseboats maintains a relationship with Beacon Bay Marina on the Cayuga / Seneca Canal where boats can be launched and floated to any location within the system.