The Riverlodge 40
We're proud to introduce the Riverlodge 40 C. It's a classic design built to be the perfect, liveaboard, vacation rental or weekend cottage. At 40' Length Overall and a beam just shy of 14' she fits in virtually any marina slip. Wired to work with either a 30 or 50 amp service, the standard in any marina and built to provide year round comfort in any climate.
Our standard design is built upon our catamaran hulls which allow for a total gross weight of 16,000 lbs. From the hull up the cabin is built to exceed the residential building code. There are no Houseboats on the market today that can provide the level of Interior comfort That the Riverlodge 40 Classic can provide.
While the standard design offers a bedroom large enough to accommodate a walkaround queen sized bed, His and Her closets, a built in bench with storage, optional lift top bed with even more storage. Luxury Vinyl Plan flooring available in a variety of colors runs throughout the boat. The Galley kitchen includes cabinetry built with plywood boxes, hardwood doors available in more than 50 styles and colors. Solid surface countertops, stainless steel appliance package. Adjacent to the kitchen is a full sized head with a 36" one piece fiberglass shower, 30" Vanity and a top of the line comfort height household sized marine toilet. While you're in that shower you won't run out of hot water from the standard tankless propane fired hot water heater located in the linen closet.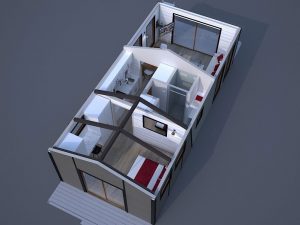 Enjoy a full beam salon with your choice of window and door configurations available in more 43 colors. Our windows are built to withstand the harsh Canadian Winters, or the hot South Florida Summers. All wood interiors finished in your choice of stain or solid colors, Behind the interior walls you will find the wall, floor and roof cavities filled with closed cell spray foam, Impervious to moisture closed cell foam provides the highest level of R-value possible, while adding structural integrity to the overall cabin. A moisture barrier covers the sheathing before you get to the latest siding offered. The finish on the siding offers a 50 year warranty against color fade, available in a variety of sizes and styles
Now add to all this the fact that all the boats built by East Coast Houseboats are built to ABYC specs. 85% of all new boats are built to these standards. These standards were developed to ensure that the materials and the processes covered under these specifications meet the highest level possible in the boat building industry.
If you're thinking about buying a vacation rental property, second home  or you're considering the liveaboard lifestyle consider a houseboat by East Coast Houseboats. Check out our directory of houseboat and liveaboard friendly marinas and private locations where our boats are welcome. This list continues to grow and if you have a location where you would like to dock one, let us know and we'll work to secure you a mooring