As our Houseboats continue to gain popularity in Marinas around the East Coast, we continue to receive interest from Marinas on creating additional on the water construction. Our latest product is our Showerhouse Boats. As with all our other boats, these are custom designed and built to our client's specifications. From the overall size of the boat to the layout of the bathrooms, to the colors and materials used that allow the finished product to fit in with the marina's look and feel.
Whether you're looking for a rustic feel or an ultra-modern look our In-house design and engineering team will provide a quick turnaround on the design, build and delivery of these boats. 
All our boats are built to the high standards that we maintain throughout the product line. Every product used in these boats is chosen for minimal maintenance and long-life cycles making the overall cost of ownership very reasonable.
We can design these boats to include your logos and signage, exterior materials in colors of your choice. Interiors built to be unique in look and feel while allowing your staff easy maintenance.
Your design can include multiple bathrooms in floor plans of your choice, add a laundry center if you wish. As with the exteriors, interiors can be completed in your choice of colors and feels to match the style that your marina deserves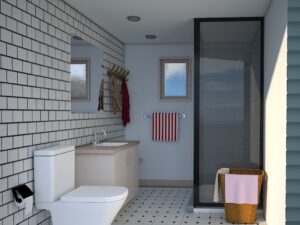 Infrastructure from electrical requirements to the handling of black and gray water are all designed to accommodate your existing marinas capabilities.  We can also assist you with any other infrastructure work that your marina might require to accommodate one of these boats. 
Let us design your next Showerhouse!