Our ability to create truly unique boats offers numerous opportunities for waterfront landowners throughout the East Coast.  An example would be the "Backyard Boat".  These boats can be built in any size required by the client.  An example is this 28′ LOA with a 13'9″ beam designed for a client who described her dock as the place where everyone congregated on a Saturday afternoon and the dock wasn't big enough.  These clients were looking for a boat that could double as a sometimes workspace, and a great place for their guests to gather.  Details included a kitchenette with solid surface countertops, a complete head with ceramic tiled shower stall, HVAC for year-round use and fully accessible roof deck.
One of the other requirements from the client was could we build the boat to match the exterior of their current home, answer of course was yes as we matched the existing siding color and even used the same brand and color of the windows used on their home.
As with every other boat we build it started with a clean sheet of paper.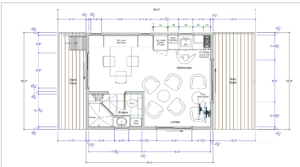 Dimensions for length and beam were determined, a floor plan was created taking into account where the best view of the surrounding scenery could be taken advantage of.  The clients existing waterfront infrastructure was taken into account.  Items like power and water as well as how wastewater would be dealt with were all part of the conversation.
The exterior of the boat featured Everlast Composite siding in Seaside Grey, with White Anderson windows and white soffit and facia.  The front and rear decks were done in Trex to match the rub rail.
The interior of the boat features a 1 x 10 shiplap on the ceiling in white, the white color continues on the wall down to a 1 x 6 chair rail with a beach glass color below.  The flooring is a luxury vinyl plank in a med. grey color, window and door trim in white.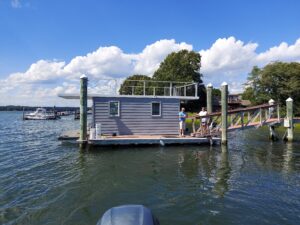 Do you own a piece of waterfront property and are looking to think a little out of the box?  With some minimal infrastructure you could add a houseboat along your shoreline, an example would be a plan we call the lake house.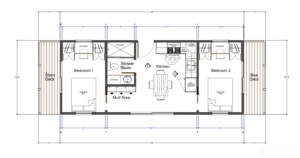 This particular design is laid out to be parallel with the shoreline.  add a floating dock to the waterside to dock your boat or just provide some additional outdoor living space to this boat.  Just another way you can enhance your waterfront without adding to your property tax bill.
Our Houseboats can be used as full time liveaboards, weekend cottages, short term vacation rentals, floating offices, or virtually any other use you could possibly think of.