The Marina Boats
East Coast Houseboats has launched a series of boats designed and built specifically for the Marina industry. As more marina owners look for additional profit centers to increase or stabilize revenue streams, the advent of on-the-water lodging industry is only going to grow.
As Marina owners you already have the real estate needed to enter this space and East Coast Houseboats hopes to provide you with the tools you need to access these opportunities.
Return on Investment is what it's all about and we believe our line of marina boats will not only facilitate your entry into the on-the-water lodging industry but also allow you to flourish in that space.
While East Coast Houseboats continues to offer our line of fully custom boats, we've now developed a line of 3 boats which are designed and built to integrate into virtually any marinas infrastructure.
What we hope we're able to achieve is a line of "standard boats" that will be built to our standard specifications which our clients have come to enjoy about our product.
All our Marina boats will utilize closed cell spray foam with the highest R-value anywhere in the marine industry. Closed cell foam not only provides moisture free insulation, additional structural integrity, but also adds a level of quiet from the outside world that will guarantee a new level of customer satisfaction to your guests.
All our HVAC systems utilize ductless mini-split systems with wi-fi capable controls.
We don't prescribe to the idea that you can get the boat in any color as long as its white and that's why we offer a line of windows that are available in up to 32 colors. Our siding which is 100% composite is available in 15 colors.
Our interiors are equally as well thought out, we install a luxury vinyl plank floor available in an extensive color and pattern line.
Any cabinetry is all American Made built with Plywood, multiple styles and color options are available in our Marina Boat line.
Each component built into our Marina Boat's is chosen for its long-life cycles and minimal maintenance requirements. These boats are not RVs on the water.
Complete Guard Safety Packages are standard on the boats, we also offer optional propulsion packages.
We also offer a furnishing and essentials package which can provide you with a boat ready for guests the day she hits the water
All our Marina boats will be engineered to work with your marina's infrastructure requirements, 30-amp, 50-amp, propane?
To assist our marina clients, we also offer fully integrated guest services platforms that will allow you to seamlessly integrate this business into your existing operations.
We've partnered with organizations such as Edge-water projects, a renown Marina engineering and consulting firm. As an example of our collaboration, we're working on a Houseboat resort, the first in the Northeast. We're not only building the houseboats but have a hand in the upland construction and Edge-water is providing all the necessary work for the re-configuration of the marina from its current use to that of a resort.
We've also partnered with a startup, called Flohom. Their business model is to provide an upscale on-the-water lodging experience for their clients. We're building all the Houseboats for Flohom and are also responsible for finding the best marinas on the East Coast for them to place their boats. This opportunity can provide an easy way for marinas to increase slip revenue.
The Marina Boat fleets include our:
Suitewater 26:
The Suitewater series of boats were designed as great way for a marina to get into the on-the-water lodging business. The Suitewater boats are available in lengths from 22' to 26' and are offered in beams from 12' to 13'9" . As an option the Suitewater's are also available with fully accessible roof decks. The boats include a full head with kitchenette and room for a walkaround queen sized bed and room for a sleeper sofa in one open area.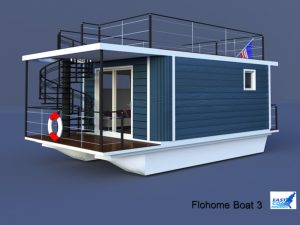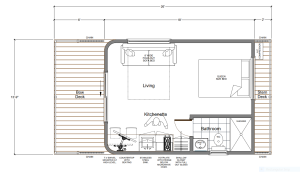 The Urban Lodge 36'
Designed to provide a separate sleeping and living area. The Urban lodge could easily accommodate a small family with the use of a sleeper sofa. Full bathroom and kitchen area, the boat can be built either with or without a fully accessible roof deck.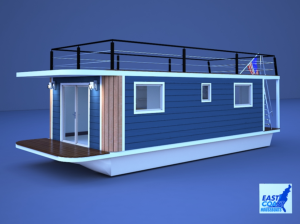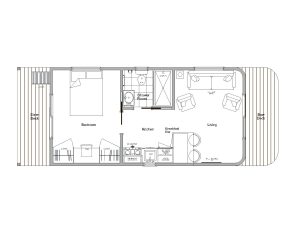 The Riverlodge 40:
The queen of the marina boat offering, we believe she's designed to be the perfect vacation rental boat. Room for a queen sized walkaround bed, nice galley kitchen, comfortable bathroom area and a comfortably sized living room.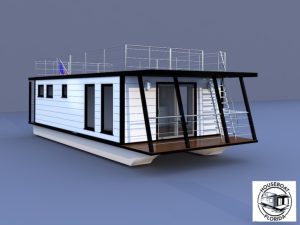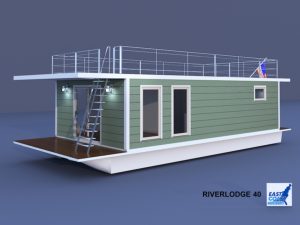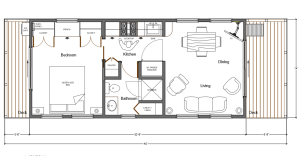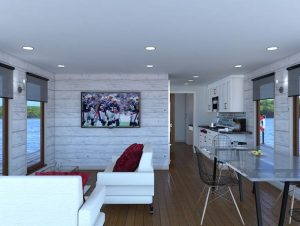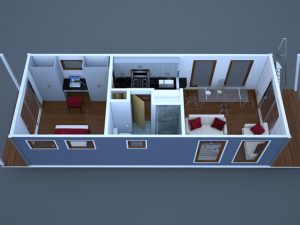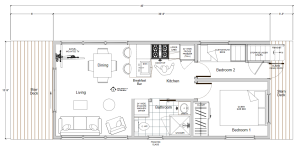 For our marina clients we also offer any other type of floating structure they may need such as floating offices, floating restaurants and floating shower house boats.  These boats are all designed and built specifically for each marinas needs and infrastructure requirements.
Interested in a complete Houseboat marina build out, shown below a proposed project in NY featuring 18 custom houseboats designed and built specifically for this specific site.  East Coast Houseboats was chosen not only because of its capability to build the boats but also our experience in upland construction.