As we continue to design and build custom houseboats, I cannot help but reflect to how we first got into this industry
It really relates to our love of the water.  For us it is about a certain peace that everyone experiences around the water.  It does not matter if it is a lake, river, bay, canal, or any other piece of waterfront that you can imagine yourself on.  Whether you use this houseboat as a weekend cottage, full time liveaboard or vacation rental property, we can design, build, and deliver the perfect houseboat to your location.  We can even provide the boat fully furnished and outfitted as a truly turnkey experience.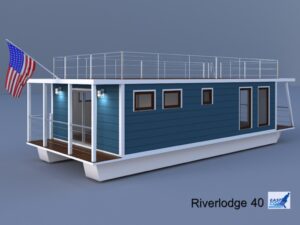 So, what is behind the thinking as we design a boat. It is simple, no compromise!   All the products we choose are designed for minimal maintenance, long life spans, and options, options, options.  Whether it is the color, style, size or location of an item, we want the design of your boat to be unique and provide you with that perfect on the water experience.
We are both proud and excited to introduce the Riverlodge 40 E.  We have redesigned this boat from the water up.  The Riverlodge now comes with the largest catamaran hulls available on a houseboat.  Not only does this hull configuration give you more distance from the waterline, but we are now able to build offering a 30% greater overall gross weight allowance and you will be able to use it with your new full roof deck,  maybe some more outdoor furniture, an outdoor kitchen, how about a fire pit? Yeah ok that might be a little extreme for a boat or is it?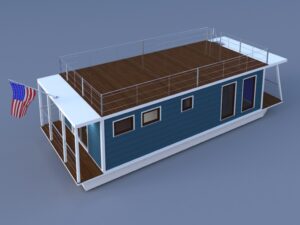 So, what is the perfect houseboat, we think the Riverlodge 40 E lives up to the hype.  The floor plan works well as a one-bedroom apartment, with a full-sized kitchen and bath.  Plenty of room for a walk around queen sized bed.  Comfortable sized living room, closets, pantry, full roof deck, front and rear decks and interiors designed exactly to fit your taste.
What may be more important is what you do not see.  The width of our floors, walls and ceilings all filled with closed cell spray foam.  The benefits of this feature are not only the industry leading R-value, but the quiet that it brings to the interior, and the structural integrity that it provides to the cabin.
Since every one of our Houseboats are custom built it allows us to not only to customize the décor but the infrastructure.  This includes the electrical system.  We design them to meet the needs of the owner.  Are you in a marina where you have 30-amp service, or 50 amp or maybe twin 50-amp services?  Maybe you do not have any electric shore power.  No problem.  We can design and install  a completely off the grid system with Solar or Wind.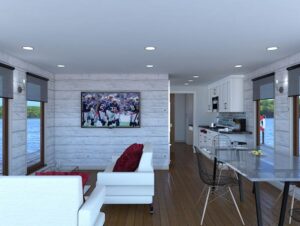 So how do we heat and cool the boat.  Well first off you will not need much of either in this boat, but to provide the level of comfort that we insist on in each build we install ductless split systems.  These are energy efficient and incredibly quiet available in multiple sizes and voltage.
On the exterior we offer a number of options,  from the norm of Fiberglass gel coat to the latest composite sidings available,  colors and styles all chosen by you the client.
While we try and balance the design between a boat and a floating house, make no mistake these are boats.  They are built to be registered, financed, and insured as boats.  All our boats come with Hull ID's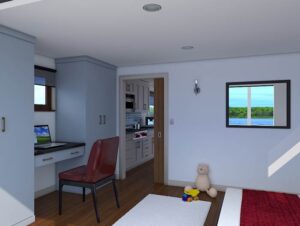 All our boats also come with the bottom paint applied,  you pick the color.  Also, our pricing always includes delivery to your location.  Again, its all about our customers experience.