New for 2021 we are proud to introduce our latest Houseboat model.  The "Riverloft" designed as a 50'er is available in beams from 12' to 15'9″
This Riverloft as the name suggests includes a loft  as a second sleeping area accessed by a staircase the folds up to the outside wall to minimize space when the loft is not in use.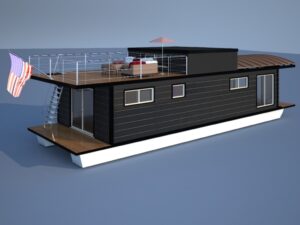 As with all our boats both the interior and exterior are completely customizable,  exterior siding colors and styles, roofing and decking colors and patterns, rail systems, window and door colors and styles.  Interiors are also designed and built to each client's specifications.  Cabinets, countertops, flooring, wall and ceiling coverings all designed with your likes and tastes in mind.
As with each of our models we build these to be registered, insured and financed as boats.  Each boat includes a hull ID#, built to ABYC standards.  While these are first and foremost boats, we are cognizant of the fact that our clients are concerned about comfort.  We install closed cell foam insulation in all our floors, walls and ceilings providing a minimum of R-21 in each of these areas.  We use high-quality residential windows and doors built in 100% vinyl and available in more than 40 colors and hundreds of styles and size combinations. Residential cabinetry with layouts that match the way you want to use your kitchen and bath.  Solid surface countertops available as an option.  We install ductless mini-split systems as our standard for Heating and Air Conditioning.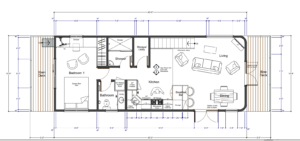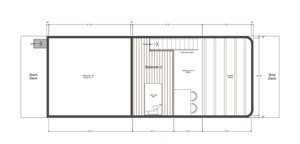 Whether you are looking for a weekend retreat, vacation rental property or you are a full time liveaboard the Riverloft will check all the boxes necessary for an incredible on the water experience.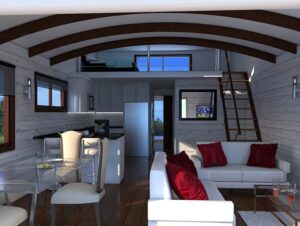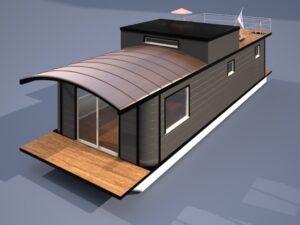 We deliver and commission these boats anywhere on the East Coast.  Remember these boats do not have to be located in conventional marina space.  East Coast Houseboats can deliver and launch your boat in a lot of unconventional places, Lakes, ponds, virtually any waterfront property could accept one of our Houseboats.  Do you have a waterfront property that cannot be utilized conventionally?  Maybe the property cannot accommodate a conventional home due to the physical size of the lot or it is in a flood plain?  Our boats can be designed and built to operate in almost any location or environment.  Contact us today for more information on how you can purchase a Riverloft 50 or any of our other custom designed houseboats.