At East Coast Houseboats, we don't have just one or two designs. Truth is we are a custom boat builder and while building houseboats is our passion, we're capable of so much more. We were recently contacted by a boat rental business. They were looking for a boat that they could entertain their clients whether at the dock or anchored out.
The criteria was simple, and while we may have gotten a little carried away with the design, we're very happy with the outcome. Fact is a boat like this could be used for a lot of different uses, on-water office space, hair salon, barber shop, even a coffee shop or on the water convenience store
The design process starts with a conversation with the client, maybe a hand drawn sketch is prepared during a meeting, from that point a floor plan is created.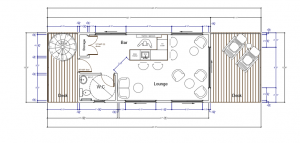 We meet with the client to discuss the floor plan. Is the layout what the client expected, have we included all the options and amenities, are the doors and windows in the right location?
We then create two-dimensional drawings. How does the boat look to the client? While all this is going on our engineering team is keeping an eye on the designers, there're focused on how well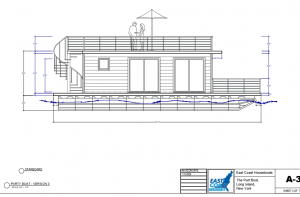 this boat will perform in the water, do we have weight and balance correct, have we considered how the client is going to use this boat, where are the guests going to stand or sit
Our drawings are now being designed to allow the client to visually experience the boat. We can add dimensionally correct people to the boat, how will it feel with 6, 8 or more people on it. We want the client to be confident in the design. It's very important for everyone at East Coast Houseboats that we exceed the client's expectations in every project.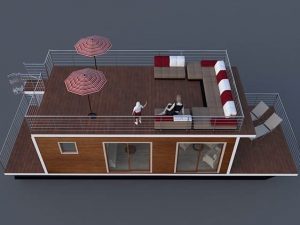 We think this boat could be the ultimate party boat, but it's just an example of what we can not only design but build and deliver anywhere on the east coast.
Think about the possibilities, how about the ability of a waterfront venue to be able to provide a VIP suite, or even a place for a bridal party to unwind before a reception? We could add a changing room, makeup table, great lighting and mirror.
Our design and construction possibilities are almost endless. We can build these boats up to 50' long, with beams that could exceed 20'. What about a "food boat" with an 8' beam that could easily be trailered to in-the-water events?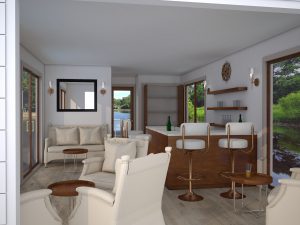 Do you have what you consider to be a crazy concept for a boat, don't pre-judge that idea. Contact us today for an evaluation by one of designers to see if we can take that sketch, to an on-the-water reality.