Our latest Houseboat is the Urban Lodge.  Designed to fit in virtually any marina or waterfront location, The Urban Lodge is built to be a cost-effective solution for vacation rental boats or even a guest house for a waterfront property.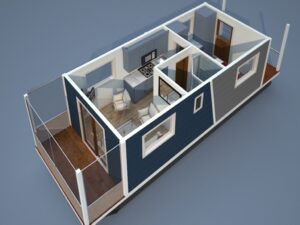 The boat is built using the same specifications as all our other boats.  Closed cell foam insulation installed in all our floors, walls and ceilings allows for year-round living in any location, residential windows with insulated glass, composite siding materials.  Heat and AC, the latest roofing and decking materials, all available in your choice of interior and exterior color combinations, with options such as a screened in front porch.
Interior finishes range from a rich looking Mahogany finish to a beachy looking whitewashed finish, we can create any look you or your clients might be looking for.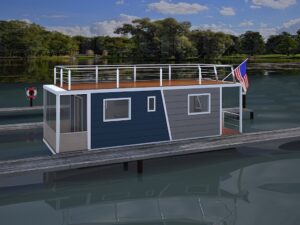 We also offer an amenities package where we deliver the boat furnished with all bedding, linens, cooking utensils, and fully decorated ready for your vacation rental business on day one
As with all our boats they come with Hull Id numbers, built to ABYC standards they are designed to be registered, insured and financed as boats
The Urban Lodge is designed while designed at 32' LOA it can be built in one-foot lengths up to 39′ and in beams up to 15'9″ in one-inch increments.  " Pricing is available on request and delivery is available anywhere within our service territory.