Where can I dock a Riverlodge Houseboat?
It's a great question and you might be surprised at how many options there are to dock a Riverlodge Houseboat.
Of course, there are all the conventional locations that come to mind, starting with Marina's. If you are considering purchasing a Riverlodge, with a completely refundable deposit of $500 we will locate a mooring location for your boat in an area of your choice. This deposit is applied to the purchase price or refunded if we are unable to locate a suitable location for your new houseboat
We are about to launch a directory of marinas within our service area who welcome Riverlodge Houseboats. We're also working with a group in Southeast Florida looking to build a houseboat community.
Our Mission here at East Coast Houseboats has always been to create opportunities for getting more people out on the water and looking for great locations to dock a Riverlodge Houseboat is just one way in which we plan to accomplish that goal.
The most obvious location to place a Riverlodge is in a conventional Marina. To aid in that all our houseboats are available in sizes that are suitable to fit in standard sized slips. Our Houseboats are all built to be registered, insured and financed as boats! Very few marinas would have any issues with welcoming you and your Riverlodge! There are locations that limit liveaboards. Some of these limitations come from the communities that these Marinas are located, other Marinas just may not feel that liveaboards fit in with their business model.
One of the best uses of a Riverlodge Houseboat would be as a vacation rental. On the water vacation rental listings are growing on sites such as Airbnb and HomeAway. There are Marinas who are creating resorts and are looking for owners of Houseboats who will put their boats in the Marinas rental fleet. This is a great opportunity for boat owners to be able to use their boat when they want and earn revenue to offset the costs of ownership or even use this opportunity as a revenue stream. Sign up for our newsletter and learn as more information on these types of opportunities are published on the site.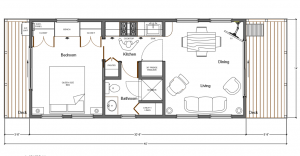 Those are some of the conventional locations to dock a Riverlodge Houseboat, but there are so many more venues to locate a boat. Have you dreamed of owning waterfront property but feel as if you have been shut out of the market due to price? What about a piece of waterfront property that is unbuildable due to either size, or the fact that is in a flood plain? With a Riverlodge Houseboat you could build a dock and moor your boat on your otherwise unbuildable property. A Riverlodge is a boat, therefore there would only be property taxes on the unbuildable site. Don't want to place the boat in the water? You can sit the boat on shore, use one of the anchoring systems we recommend should you have flooding would keep the boat in its desired locations.
Maybe that piece of waterfront property is unbuildable due to the lack of utilities. We have an off the grid package that will allow you to enjoy your Riverlodge without compromise. Energy conservation on a boat is important and on a Riverlodge that is no exception. A Riverlodge Houseboat can be designed and built for any application.
A Riverlodge can be launched in virtually any location. We do not need a traditional marina location to place your boat in the water. Our experience with the use of Systems Built Construction provides us with the expertise to use cranes or other existing methods to place your boat in its desired location. This experience also allows us to re-locate your boat at any time you might wish.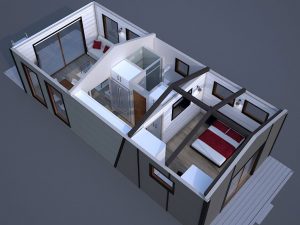 We encourage you to think out of the box as it relates to potential locations. A pond or private lake might be a great location? Don't let the seasons hold you back. The Riverlodge series of Houseboats is designed for any climate. The use of products such as residential styled energy efficient windows and doors, closed cell spray foam in the floors, walls and roof, residential styled HVAC systems allow for year-round comfort. Worried about Ice? We work with the best companies in the industry to provide Ice forming remediation systems. These companies protect floating homes in northern Canada, we can protect your Riverlodge in virtually any location within our area.
Want to learn more about the opportunities at East Coast Houseboats, please drop us a line or give us a call