Could NYC support a Houseboat community?  That is a question we are asking as we work to build the first houseboat community on the East Coast.   With over 574 miles of coastline, with dozens of existing marinas, miles of undeveloped or underutilized shoreline, the possibilities seem limitless!  East Coast Houseboats has a vision to create this community.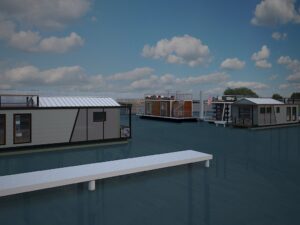 Want to get on board, send us an e-mail to be one of the first to learn about how to live on the water in an East Coast Houseboat.  We want to hear from you as to what you would want in a floating community.  Should it include just single-family type boats, should it include commercial boats such as a floating coffee shop? Or salon? Should the community allow for Airbnb type accommodations.  Every boat is designed and built to our client's specifications.  These boats are built to live comfortably year-round in this climate.  Every boat comes with Hull ID#'s.  They are built to be registered, insured and financed as boats.  Check out the boats at www.eastcoasthouseboats.com
As we work to accomplish this goal, we will identify the requirements necessary to create such a community.  What would be the perfect location?  Will it be its access to mass transportation?  Will it be in an existing marina?  What type of infrastructure will it require?  How will the community handle utilities, waste management, access to high speed internet?  All these items and many more will be factored into picking a suitable location.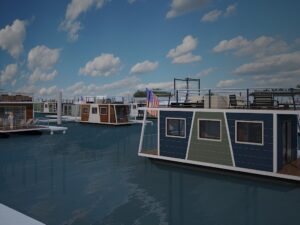 This is a journey we are about to embark on, help us accomplish something special! We want to hear from you,  do you a have a suggestion, would you like to suggest a potential location, or want to get involved in any way reach out, send us an e-mail to [email protected]