Hostel Boat
While houseboats come in all shapes and sizes, what is unique about East Coast Houseboats is our ability to design and build them to meet any need and deliver them almost anywhere.
Our latest model is called the Hostel Boat. The boat is designed to provide Simple Lodging such as those found in Hostels around the world. This boat is designed and built to be a cost effective solution for locations looking to create extra accommodations. Whether a marina, waterfront campground, or a guest house on personal waterfront property.
At 32' long with a 12' beam this is the smallest platform we have developed to date Originally conceived to be preplaced at intervals along the Erie Canal System allowing for paddlers or cyclists the opportunity for comfortable lodging while traveling the Canal. These boats can be equipped to perform well in off the grid locations due to their low power consumption. They also work well in shallow water situations due to its unique hull configuration and construction. They are comfortable in fresh or salt water or even placed on land in a flood plain situation.
The floor plan allows for 2 separate sleeping spaces separated by a full sized bathroom and kitchenette. Each room is entered through a covered deck with an easily accessible optional Kayak Launch. Each unit has access to a roof top deck.
As with all our boat designs, exteriors are available in multiple colors and designs. Mechanical systems are custom designed for any application.
The Hostel boat can be built in length increments of 4' with beams available up to 15'9".  Pricing for the Hostel boat starts as low as $89K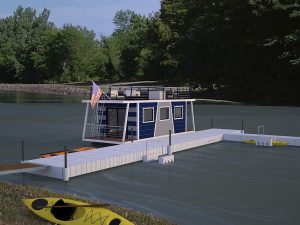 .